JUSTIN BIEBER ARRIVED in Ireland at the weekend.
He kicked his new tour off last night with the first of two sold-out shows at the O2.
Here's what has happened so far:
1. We found out he's not the best punctuator
(This has been retweeted more than 40,000 times.)
2. But the Irish love him anyway
3. OK, they REALLY love him
Love him like 'trying to break down security fencing' love him.

4. He rode a Segway like a boss
But his entourage had to walk, obvs.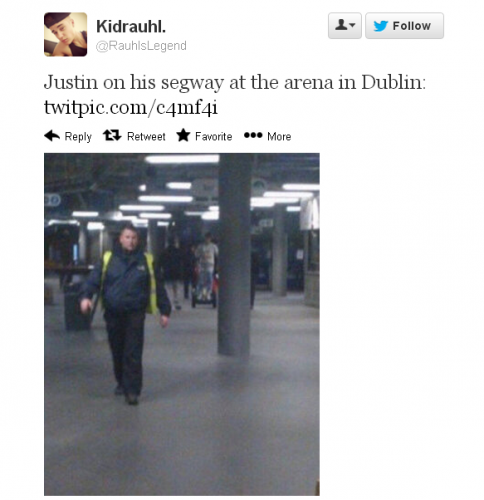 5. He brought his ma
6. His entourage went to look at some Irish, uh, streams and stuff
And they totally appreciated them. "Beautiful scenery everywhere," wrote the Bieber's bodyguard Kenny Hamilton.
7. He may be in the Illuminati
This was his entrance:
Either that, or his crew just forgot to take his tarpaulin off after the winter.
9. This
9. And this.
This footage is from before he even came on stage. Three solid minutes of straight-up screaming.



YouTube/tonymontanoe
Roll on tonight, eh?