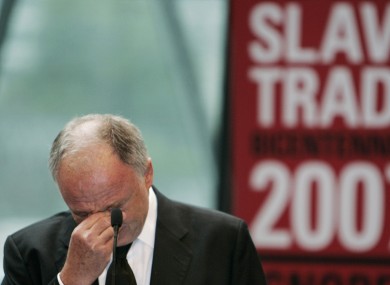 Not the first time Livingstone has got emotional -here he is delivering a speech in 2007
Image: AP Photo/Lefteris Pitarakis
LONDON MAYOR CANDIDATE Ken Livingstone was seen blubbering as he watched his campaign broadcast at the launch of his manifesto recently. The Guardian reports that Mr Livingstone said that he found the broadcast "very moving".
Do tears show weakness in our leaders or does  it cast them in a new human light? While male politicians have showed their sensitive sides by turning on the waterworks, female politicians often get slated for being 'too emotional'.
What did you make of these instances?
Hillary Clinton – The current Secretary of State got emotional when asked about the presidential campaign trail in 2008.  Her 'moment' attracted heavy media criticism about whether she was 'too emotional' to be president.



(Via YouTube/Veracifier)
Bill Clinton - While his wife showed genuine emotion, the former US president was caught at a funeral faking tears. Clinton is seen smiling and laughing until he spots the camera is on him, then suddenly he looks sad and reflective.



(Via YouTube/blogologist)
George Bush Senior – Former US president George Bush Senior broke down when he was speaking of his pride for his son. Not the other president George, but his other son Jeb.



(Via YouTube/smgumby)
Vladimir Putin – Russian strongman cried tears of happiness when he learned of his victory in this year's presidential elections.



(Via YouTube/kinglovelyofficial)
Elsa Fornero - In 2011 Italy's welfare minister broke down when she was unveiling the country's austerity package to the press. Not sure if these tears would be seen in the Dáil on budget day…



(Via YouTube/telegraphtv)
Bertie Ahern – While Enda Kenny said that he gets teary-eyed every time he sees Riverdance, former Taoiseach Bertie Ahern choked up as he tendered his resignation. At the time he was flanked by his fellow Fianna Fáil members but now he stands alone having resigned from the political party. "I've done no wrong and wronged no one," said Ahern in a quivering voice.



(Via YouTube/gavinsblog)